Romantic Times Book Reviews
says about In the Darkest Night:
O'Shea has another winner. Equal parts passion and horror blend to create one great read.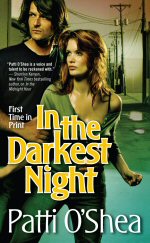 This is on the heels of my starred
Publishers Weekly
review where this book was called "a riveting thrill ride."
I'm excited that this book is being so well received! Kel is very special to me and he just grabbed me hard and wouldn't let go.
And I'm sick right now, so I hope you'll forgive the short blog post. I can't focus well enough to write much of anything.