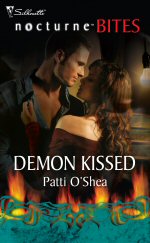 Demon Kissed
was released on May 1st!
Bree Molina is a demon slayer who finds herself outnumbered and injured one night. Then Andras shows up to help her. Bree has always felt the heat between them, but it's so strong, it scares her and she wants to take things slow. This one night is going to blow slow completely out of the water.
This is a short story from Nocturne Bites and available in e-book formats only.
It kind of amazes me that I really enjoy writing short stories. My single title books routinely come in over 400 manuscript pages and I would have thought telling a story in something around 60 pages would be impossible for me. But then I was asked to write a story for a collection and I had a blast! I knew I wanted to write more and the world I created for that story,
Blood Feud
, interested me. A lot.
Demon Kissed
is set in the same world as
Blood Feud
, but both stories stand alone.
I have more story ideas for this world, too. One of them lured me away from the Work In Progress (WIP) and forced me to write a rough draft of the first chapter. Really. I was just minding my own business when these two characters turned up, grabbed me, and made me start writing them. :-) I'm resisting the temptation, though, to polish their chapter. They need to wait their turn; there are others ahead of them.
Last night, after I was done writing and in need of some vegging out time, I found this site that does tag clouds and put one together for Bree and Andras and
Demon Kissed
. Pretty cool, huh? I know the heart shape is a bit trite, but there weren't a huge number of options available to choose from and a lot of what they had didn't fit the book at all. Like the peace dove option.
Anyway, I thought it turned out cool enough to share. I love how Andras and Bree's names are right there so nice and large and the word
demon
goes up vertically from Bree. That just worked out so perfectly and it was the program that did it, not me.
So if you'd like to pick up your very own copy of
Demon Kissed
, you can find it at these sites:
Amazon
Barnes & Noble
eHarlequin
Sony eBookstore
Books On Board
Diesel eBook Store
There probably are more stores, too, but these are the only ones I know about. I hope you'll give the story a try, and if you loved it, let me know. :-)