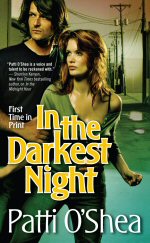 In the Darkest Night
is a finalist for Best Paranormal in the
National Readers Choice Awards
!!! Woot!
I was so excited when I got the call, I kind of shrieked into the phone. And then I babbled. I hope the poor coordinator recovered from the experience quickly. Normally, I'm much more low-key when I hear one of my books finaled, but not this time.
Some authors talk about the book of their heart, singular, but I have the books of my heart. Plural. Maybe I fall in love too easily, but of my eight full-length novels, I'd call three of them the books of my heart.
In the Darkest Night
is one of them.
The story is Kel's (the hero) and it's about how he changes and reaches a point where he can accept help. You see, he has Post Traumatic Stress Disorder (PTSD), and instead of getting help, he's stonewalled everyone, including his twin brother who has always been his best friend. Kel was held captive and tortured (before the book opens) and he's trying to lock that away, pretend it never happened, but he can't suppress the memories or his guilt.
His heroine is Farran. She has her own issues, and in the months she's been on the run, has developed new ones. She grows over the course of the book, too, of course, but it's Kel's story and he's got the bigger changes to make.
I loved these two. They're both emotionally wounded, and in each other, they find a kindred spirit, someone who can accept them as they are, baggage and all. This book wasn't easy to write, not when the characters had such big issues, but I knew from the minute I met Kel that his story had to be told.
Of course, there aren't only issues. There's magic, action, adventure, and two people falling in love with each other even though neither one of them want that. I love adventure and romance, so those have to be there. :-)
It means a lot to me that this book is a National Readers Choice Finalist. Thank you!